I'm Davis, and as you probably know by now, an absolute foodie! I love visiting places the world over and sampling their local fare. I think the true character of a place can be revealed by the food that you eat, and that is why I go to the various nooks and crannies of every city I visit the world over, not differentiating from the hatted restaurants and those that serve you street food.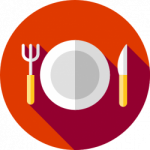 I believe strongly that food has the power to tell a story. It takes you to places in the environs of your mind that you might not have erstwhile visited, and it reminds you of the primordial fact that it is so wonderful to be eating food that sustains you; yet, going beyond that and doing something magical with your palate. I believe that one must try as much different cuisine as they can, and relish in the experience.
I also believe in the power of discretion; in judging for oneself what good food is. If you remember, I didn't quite like a particular tuna sandwich in a place where the view more than made up for it. What I'm really trying to say here is, I want you to go to the restaurants that I have championed in this essay, but I want you to make a decision for yourself where it comes to sampling the dishes I have mentioned. Moreover, I want you to make a decision when ordering yourself. For instance, if something looks nice on the menu, please go ahead and order it.
You might not be as avid a meat eater as I am; try the veggie dishes instead. But make sure you try some of these places when you're in Portland. Having traveled the world over, I think it's safe to say that I have a good deal of experience where it comes to gauging a place, and all of the places on this list are good for some reason or the other.
At the end of the day, if you have simply visited the restaurant based on my recommendation, I would consider it a win. If you have dined there and loved the place, of course, that would be the icing on the cake!
I believe the future is all about taking food to the next level. We have already seen fusion food in a lot of places the world over, and I think that's a trend that is going to be developed even further. That being said, the kind of food that was the staple of many for so long, like the good old cheeseburger, will never go out of style. These are the very things that have been loved by generations in the past and will be loved by generations to come. The real goal here is in finding the tried and tested that have been taken to the next level as well as those culinary treats that have not been tried and tested at all. That is where I step in.
I think in the future, people will be eating out more than ever. Just see the amazing new restaurants that have popped up in the place where you live. I don't even need to know where you live, because wonderful new eating joints are mushrooming the world over. It's a good thing, really, because eating out is a good chance to meet your friends and tell each other stories, while the food tells you a story of its own.
I believe that through bloggers like myself, people can learn a great deal about the new food trends, much like people know what the latest fashion trends are by following fashion bloggers out there. In a world where there is an increasing number of new dishes coming onto the scene every single day, it is on account of reviews such as mine, that will help filter the search of people for really good food.
The truth is, everyone wants to make nice food for people out there. It's just, sometimes it's plain terrible and sometimes it's absolutely incredible.
I hope I can help you find that incredible.